"Ashutosh, please change Smiti's diaper. Ashutosh? Ashutosh? Oh, there you are. Get out from under that bed and be a man."
"That's precisely what I'm trying to be, dear. Men don't change diapers. That is completely the woman's domain."
"Oh, really? And what do men do once they've had their fun and the result hollers for attention a few months later?"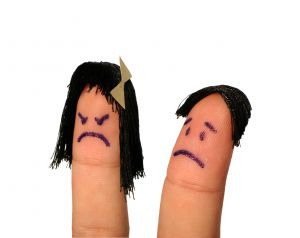 "Men are hunter-gatherers, dear. They go out and kill bison to bring meat on the table, fight off barbarian intruders into the territory who want to ravish their women and steal their offspring. They hit the steppes and prairie in times of famine and forage for water and food so that the family does not starve. They do NOT change diapers."
Brief silence, rudely broken by another outburst of squalling from the cradle.
"That is a real eye-opener"
"It should be."
"I'm trying to see my own husband in this light."
"You should. It is the order that Nature has designed. You can't fight it."
"I'm trying to see my accountant husband as a hunter-gatherer."
"Now you're getting personal. It's not my fault that my father insisted that I…"
"I'm trying to equate his being picked up by an air conditioned company car and going to his air conditioned office to pore over registers with hitting the hunting grounds and killing bison to feed his family."
"You have a very poor sense of metaphor, dear. Rather than my exact words, you should focus on the SPIRIT of…. "
"I'm trying to equate his calling up the credit card and pleading for more time so that the debt collector who's bothering his wife every morning after he leaves doesn't repossess the fridge with fighting off barbarian intruders."
"As I said…"
"I'm trying to equate his disgruntled face as he trudges off to replenish our exhausted milk supply at the corner store with the valorous demeanor of the primeval provider who leaves the cave determined to find water for his parched mate and brood in time of drought."
"You are missing the point here, dear. Anyway, men do more than hunt, provide and protect. They also sit in councils that meet to confer on how to keep the community safe. THAT is definitely a man's job – no man would expect his woman to assume such a weighty responsibility."
"They do, do they?"
"Yes, they do. Can you imagine the burden of having to stand up and giving voice to words that can impact the wellbeing of the entire community? What if his judgment fails him? He would be at least responsible for plunging countless families into penury."
"Well, you certainly haven't shown up at any of the building society meetings ever since we took this flat. I go each time, but the all-male panel refuses to acknowledge anyone but the legal flat owner – you."
"Dear, you know how it has been at the office. All those accounts we inherited from Mr. Mehta when he had a stroke two years ago have…."
"Had you shown up for at least the last two, you may have been able to prevent them from turning our legally allotted parking space into a gymnasium."
"They did WHAT?!?"
"Turned it into a gymnasium."
"How could they do that?"
"Oh, with about ten bags of cement, another ten of sand, twenty gallons of water and some workers – in two days flat. Some goondas from Grant Road supervised the process to make sure that the woman screaming her protests – me – doesn't prove to be too much of a disruption."
Silence. Renewed squalling from the cradle.
"But we were going to buy a car this year…."
No response.
"Okay, where are the diapers?"
"In the cupboard next to Smiti's cradle."